Today is my Grandfather's birthday–he'd have been 88 years old today if he were still alive.  He passed away June 27, 2017.  I just wanted to take some time to honor him today and share a little piece of the big hearted man I was so fortunate and blessed to call Grandpa.
Do you know what "kill sticks" are?  I didn't either until my first deployment to Jordan in 2015.  Pictured here are those very kill sticks and a letter of instruction from my grandfather on how to use them.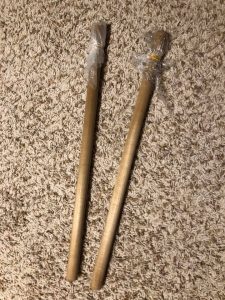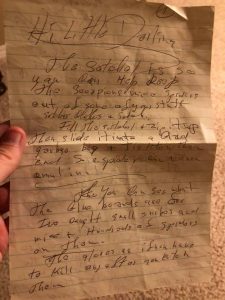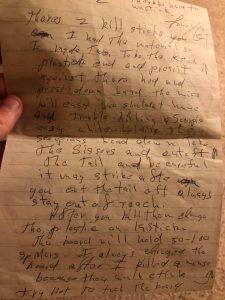 Grandpa sent me several packages when I was deployed that included a wide variety of things for me to share with my Soldiers, even cans of spam and anchovies (yuck)!  His intent though was for me to share and some people actually like and eat that stuff (though how I don't know)…  He also gifted me the below hilarious cat lady nightgown–he couldn't wait for me to get it because he was so proud of himself for finding it.  He was even prouder to have a crazy cat lady for a granddaughter!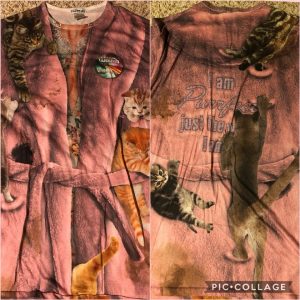 Not pictured are the pistol, the pink taser, pepper spray, knife, multi tool, rape whistle and BEAR MACE–the various other gifts he bought me over the years.  I was ordered to keep the bear mace in my nightstand as it would shoot across the room at an intruder if my house was broken into!  I can't make this stuff up…  You see, my grandfather was very concerned about my safety and welfare.  He believed one should be and lead an independent life but be cautious at all times doing so.  Some might think that's a bit too overprotective but overprotective is just another word to describe how big someone's love for you is.  (This is where Laurel Watkins-Lynch gets it…)  He called after every golf tournament I played and was proud whether play was good or bad.  He encouraged my military lifestyle–absolutely loved it actually–told me he thought it was the best decision I ever made.  He advised I always be able to rely on myself so I never have to be dependent on someone else, especially a man, ha.  He was always proud and never thought I should be someone I wasn't.  He's been gone just under two years now, but I am reminded every day of his love for me; and I reflect on his sage advice.  I also know he gets a great, hearty Grandpa laugh in up there in Heaven when I am swinging and smashing his handmade kill sticks at those ugly eight legged arachnids that refuse to accept my hatred of them!
Sadly, I was deployed when my grandfather passed away.  My family waited for my return home just a few weeks later to hold his memorial.  Gratefully, one of my last conversations with him was right after I was promoted in February 2017.  While I wish I had called more in the months after that, I am thankful that we were able to at least have that last, good conversation.  I will always recall fondly the pride in his voice on that call.  Below is what God put on my heart to say at his memorial.  At 86, he'd lived a lot of life and that deserves to be shared, admired and respected.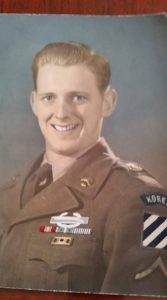 March 13, 1931 – June 27, 2017
"Good Afternoon.  For those of you that don't know me, my name is Staci Lynch and I was Tom Watkins' granddaughter.  On behalf of my family and I, I want to thank you for being here today and helping us to celebrate my grandfather's life.  I decided to wear my uniform today in his honor and believe that he's up there in Heaven right now just getting a kick out of it.  If he were here, he'd say, "Hey love, wow, lookin sharp, what you weigh now?" Then cup his hand around my arm and say, "Ooh, getting some muscle there, you lifting weights?!"  He was incredibly proud to have served his country in the Korean War Conflict, but he was even prouder when myself and my brother joined the service.  He often told me he thought it was the wisest and best decision I'd ever made and that'd I'd "surely make a career of it, just watch" he'd say, "you'll see; you're gonna be a General!"  Now I don't know about all that, but what I am most grateful about is that his and my last conversation was right after my last promotion.  I'm happy that he was able to be a part of that if only in spirit from halfway across the world.  I was hoping to see him when I got home but he was just too tired.
Grandpa was 86.  Born into the Great Depression Era, he was a child of the World War II era; he was a young Soldier in the Korean War Conflict; he witnessed the Civil Rights Movement, the assassinations of JFK, his brother Bobby Kennedy and Martin Luther King Jr., watched the horrors of the Vietnam War on national television, experienced Elvis Presley, Frank Sinatra, and Patsy Cline, the attacks on 9-11, 15 US Presidents, and so much more.  That's a lot of life to witness, but the most amazing thing about all of that is that none of it made him cynical about life.  Grandpa always had a positive enthusiasm for living life vibrantly–meeting and engaging with new people, having experiences, learning new things most of which in the latter years were taught him by his good friend, the Google; he'd yell into his phone—"Hey Google!"  Talk about a man that was impressed with technology—good thing we never taught him Facebook.
Melissa Etheridge is quoted, " I want to live my life pursuing all my happiness."  Tom Watkins pursued all his happiness.  He lived his life to the fullest and never let his age define him.
My memories best recollect Grandpa pulling into the driveway in his old red/grey truck, emerging out with a box of donuts in one hand and a handmade walking stick in another.  After bellowing his loud and classic, "How are ya?!" he hugged and kissed all on the cheek, asking what everyone weighed—if they'd put on some weight or lost some weight, to include my cousins' Brooke and Amanda during their pregnancies.  Deaf, but too proud to wear his hearing aides, one had to have their cough drops handy when speaking to him—you were going to be hoarse by the end of the evening.  We enjoyed his stories, laughed at his jokes and heeded most of his advice.  He was selfless—he drove down to TN from CT to pick up my brother and mother when his son, her brother, our uncle, passed away in 1997.  He drove my father's father to TN from CT on several occasions.  He brought down New England lobsters for my golf coach as a way of thanks for the lessons he was giving me.  He brought mom roses when I was born and to his sick and dying sister every day until she passed rebuilding a relationship that had broken so many years before.  He was a hero—having earned a Bronze Service Star, the Combat Infantry Badge, the United Nations Service Medal and National Defense Service Medals in the Korean War Conflict.  35,000 Americans didn't come home from that conflict but he did.  He was a dancer—he twirled each of his granddaughters around at their weddings; one of my most cherished photos is with him dancing.  The man could move.  He was a debater—one of his favorite things to do was argue politics with Clete Walker.  Those exchanges should have been recorded and sent to CNN and Fox News.  He was generous—slipping cash to us when no one was looking—"Don't tell your mother."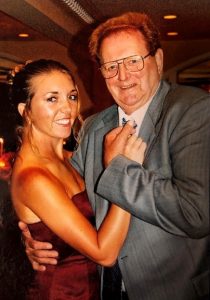 The lesson I take most from Grandpa is one that is echoed in the story of the Velveteen Rabbit.  In this children's book written by Margery Williams in 1922, the Velveteen Rabbit asks the skin horse, "What is REAL?"  Believing it had something to do with how the fancier toys in the room were made, he proceeded to ask him,  "Does it mean having things that buzz inside you and a stick out handle?"  The skin horse told him, "Real isn't how you are made."  It's a thing that happens to you.  When a child loves you for a long, long time, not just to play with, but REALLY loves you, then you become REAL.  "Does it hurt?" asked the Velveteen Rabbit.  "Sometimes," said the Skin Horse, for he was always truthful.  "When you are Real you don't mind being hurt…  it doesn't happen all at once," said the skin horse.  "You BECOME.  It takes a long time.  That's why it doesn't happen often to people who break easily, or have sharp edges, or who have to be carefully kept.  Generally, by the time you are Real, most of your hair has been loved off (and Grandpa was proud of his hair), and your eyes drop out and you get loose in your joints and very shabby.  But these things don't matter at all, because once you are Real you can't be ugly, except to people who don't understand.  But once you are Real you can't become un-Real again.  It lasts for always."  Grandpa was one of the most "Real" people I knew.  Domineering, unbreakable.  He experienced his own trials and challenges, made mistakes, bad choices–as we all do in life–but by the end of his life, he used those things to teach us.
Being loved sometimes hurts.  Although we do our utmost not to deliberately hurt the ones we love, the truth is, we inadvertently hurt the ones we love (and they hurt us), because our hearts are exposed the most to one another.  But what greater way is there to communicate and to exist, than to live wide openly and authentically REAL with one another?  Grandpa was REAL.  He experienced the full spectrum of love, the entire meaning of what it means to be Real.  He loved and he was loved in return.  He wore many hats.  He was a son, a brother, a husband, father, grandfather, great-grandfather, great-great grandfather, friend, US Army Veteran, hunter, animal lover, traveler, lifelong learner.  He was a fighter, food lover, a storyteller, joke teller—a comedian in his own right.  He was intelligent and carried 86 years of life earned wisdom and experience that he loved sharing.
I close with two possible answers to two questions asked numerous times over the last two weeks.  Why did Grandpa have to suffer so much in the end?  In my opinion, simply because God works in mysterious ways–because suffering breeds compassion and brings people closer together.  Pain and suffering are the soil of strength and courage; out of suffering emerges the strongest and most compassionate souls.  Second, Grandpa questioned often why he was spared in the war.  "Why him and not others?  Why did he get to come back when so many did not?"  Well, that answer is simple–all of you sitting here in this room.  Children, grandchildren, great grand children and great-great grandchildren—the same strong and compassionate souls that were with him these last few trying and challenging months, all of you whose impact on this world has only just begun.  One man's survival created this beautiful legacy.  The goal is never to live forever but to create something that will.  Tom Watkins completed his life To Do list:  Live, Laugh, Love–Leave a Legacy.
Thank you again for your attendance.  Have a good rest of the day.  Grandpa, keep hopping into our paths.  We'll look for you among the bunnies."