It's been quoted that "Writing is the painting of one's voice."  I truly believe that.  I have been journaling for years, (regrettably, not as consistently as I wish I had).  However, the stories and the memories stayed alive in my heart and I feel compelled to share them with you.  Life is an awesome journey and WORDS can change the WORLD.  Words can change YOU.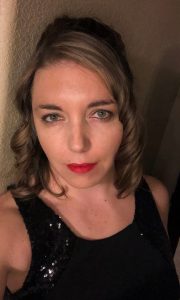 A little bit about me.  Legally born with the name Anastasia–no, not a Russian Princess or Christian Grey's object of affection,  😉  I was born in Connecticut and raised in Tennessee, the second of six children.  I have four incredible sisters and one amazing brother that are my best friends in this world.  I play golf and competed on my high school and college golf teams.  I earned a Bachelor's degree at Austin Peay State University in Clarksville, Tennessee and began my MBA at the University of Colorado, Colorado Springs Spring 2019.  I am a Captain in the United States Army Reserve now having fulfilled 6.5 years on Active Duty.  I am a General Manager pursuing a career in the civilian sector of Corporate America with Love's.  Additionally, I enjoy instructing Spin classes.
I am petrified of spiders.  Mexican food is disgusting.  Being late raises my blood pressure to an exponential high.  Making the following statements:  "I'm bored; I've been too busy; or I didn't have time" will earn you the "Staci Eyebrow", ignite a long lecture, and lose your credibility in my eyes.
I am a directionally dysfunctional, generationally displaced tech-tard.  I believe one of the best presents in the world one can give another is a handwritten card or letter in the mail.  Stressed spelled backwards is "DESSERTS" and I love spoiling my sweet tooth with nothing other than a cupcake or big bowl of Breyers mint chocolate chip icecream with Hershey's chocolate syrup and chocolate sprinkles.  I will not drink a soda without a straw because I do not want the carbonation touching my teeth.  I find happiness in the simple pleasures of life–the laughter of a child, climbing into a bed of freshly washed sheets, a bubblebath, lit candles, falling rain, sunrises and sunsets, long walks, bringing a smile to someone's face or receiving an unexpected compliment.  I love a good lemondrop martini or glass of wine.  I can lose myself in a good book for hours.  The Hallmark channel makes my heart smile.  Baking at the holidays or trying a new recipe brings me joy.  I believe kindness is the easiest language to communicate–even the blind can see it and the deaf can hear it.  Every sinner has a future and every saint has a past.  Actions speak louder than words.  And lastly, love is the greatest gift you can ever give or receive.
Older than my years, wiser than my fears and stronger than my tears, I have made a lot of mistakes and poor choices in my life but no lessons are better learned than those from failure.  I have earned more than one degree at the School of Hard Knocks.  While we often wish we could go back and change some of these decisions, I do not, as I know I would not be who I am today without these experiences to reflect and draw from.
Finally, I believe that the best way to find yourself is to lose yourself in the service of others.  Your gifts, your leadership and your purpose are not about you.  A life of significance is about serving those that need your gifts, your leadership and your purpose.  Give them and give them freely.  God is great–trust in Him.  My hope and my intention is to serve Him and you with the painting of my voice on this blog–my canvas.  🙂